Well, This is Going to Be A Shame…
What is happening here?
THE FRENCH DISPATCH brings to life a collection of stories from the final issue of an American magazine published in a fictional 20th-century French city. It stars Benicio del Toro, Adrien Brody, Tilda Swinton, Léa Seydoux, Frances McDormand, Timothée Chalamet, Lyna Khoudri, Jeffrey Wright, Mathieu Amalric, Stephen Park, Bill Murray and Owen Wilson.
Two things about this trailer right off the bat:
To quote me back to myself from a previous post about this film:


No threatening black people, a foreign location, a lot of sepia-toned images, and quirky, hand-built sets, with an unfunny and restrained Bill Murray. Surely the dialogue will all be whispered, hipsters will feel good, and regular people will clamor for another MCU film.

There is no uniting narrative here, just a series of floating disconnected vignettes attempting to make a point about journalism, writing, relationships, aging, men, women, and the French. Demonstrating that, ever since The Darjeeling Limited, Anderson has lost his ability to tell a story.
It's Maddening What's Happening
Wes Anderson used to have the ability to unite a narrative structure in an interesting way. Rushmore, Bottle Rocket, and The Royal Tenenbaums stand out as his most structured, most impactful, and most narratively well thought out and executed films.
The quirky sets, mood lighting, quick takes, and flatly delivered dialogue served the story rather than being the MacGuffin themselves.
But, ever since he hooked up with the Coppola children—Roman and Sofia most notoriously—he's lost the ability to hang all of his auteur tendencies together into a narrative that isn't either a shoddy mess or totally inaccessible to a viewer.
The Darjeeling Limited, Moonrise Kingdom, and, particularly, Hotel Chevalier, are prime examples of what The French Dispatch is continuing to do.
What Are We To Make of All of This?
Wes Anderson is allowing his professional associations and creative tendencies to slowly lead him down the path of Netflix film irrelevancy.
This is a real shame because out of all the modern young directors, Paul Thomas Anderson, Christopher Nolan, and Darren Aronofsky, Tom Hooper, Matthew Vaughan, and Sofia Coppola, he had a real opportunity to develop into a truly visionary director.
With the release of The French Dispatch, it hasn't happened, yet.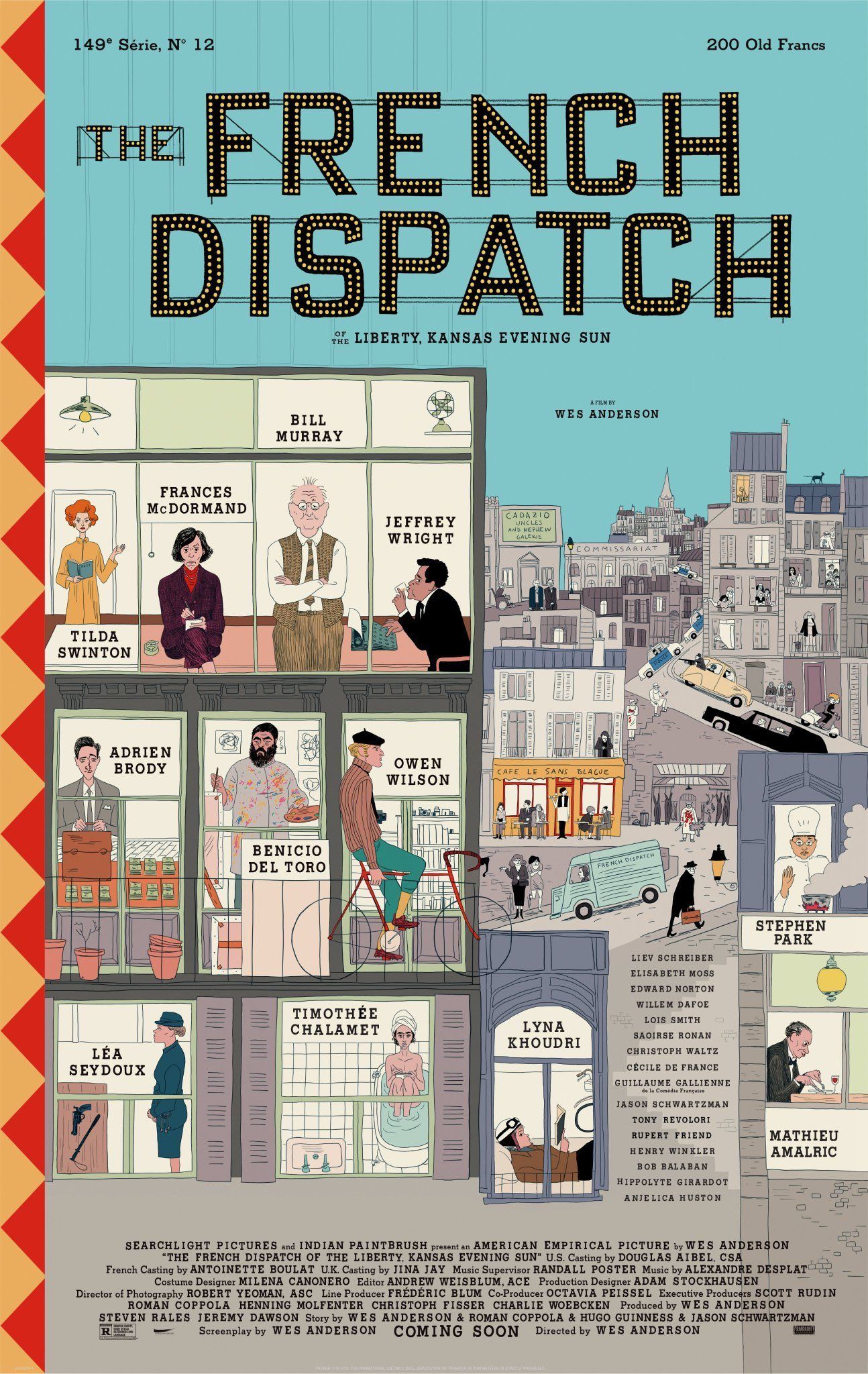 The French Dispatch drops on July 24, 2020, on Netflix in theaters.