You Have The Right To Remain Disgusting
Nothing tickles my jimmies more than a good buddy-cop movie. Especially when it has comedy, horror, science fiction, and action all rolled up in a neat package.
And Dead Heat fits that criteria perfectly.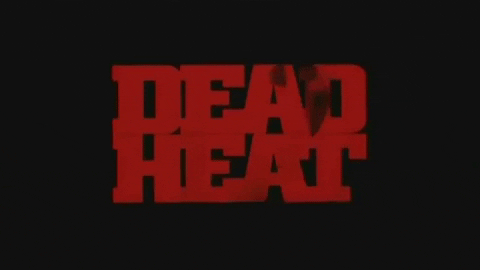 Shot in 37 days and released in 1988, this film was one of three movies directed by Mark Goldblatt, along with Dolph Lundgren's The Punisher and one episode of Eerie, Indiana.
Starring Treat Williams as Roger Mortis (haha!), Joe Piscopo, horror legend Vincent Price, Darren McGavin, Robert Picardo, and Professor Toru Tanaka.
Even Shane Black had a bit part. Fortunately, his incompetence was in front, rather than behind, the camera.
Just A Touch Of Formaldehyde
The plot revolves around two cops investigating a foiled robbery by two ridiculously looking hoods, seemingly immune to bullets.
They are found to have already been mysteriously processed as corpses by the city morgue – complete with autopsy scars. 
So why were they walking around and robbing jewelry stores?
Upon investigation, it turns out the robbers were linked to Dante Laboratories, which have invented a resurrection machine. When Roger is killed, they use it to bring him back to life. 
Of course, there is a catch, and he has 12 hours before the reanimation process wears off and he degrades and melts into a puddle of goo.
Now impervious to being easily killed by conventional means, Roger decides to use this time to solve his murder and discover who is behind this dastardly scheme. 
Your Math Is Blowing My Mind
Plenty of reasons to invest time you'll never get back:
Roger has 12 hours to go 48 Hours in 86 minutes 
33-ish murder-death-kills
Joe Piscopo's one-liners are worth it
A good amount of gore, in spite of cuts, to get from "X" to "R" rating
The decent caliber of actors ensures the dialogue isn't grating
It's free to watch
Watch it on Tubi and Amazon Prime right now.
Like you've got something better to do.