Hello peeps…
The trailer for The Invisible Man just dropped today.
Sorry to disappoint you all, but it's not based on Invisible Man, the acclaimed classic book about social injustice from the '50s by Ralph Ellison.
Rather it's the latest reboot of the classic Universal monster flick.
The summary sounds more like the Verhoven version:
Trapped in a violent, controlling relationship with a wealthy and brilliant scientist, Cecilia Kass escapes in the dead of night and disappears into hiding, aided by her sister, their childhood friend, and his teenage daughter.

But when Cecilia's abusive ex commits suicide and leaves her a generous portion of his vast fortune, Cecilia suspects his death was a hoax.

As a series of eerie coincidences turns lethal, threatening the lives of those she loves, Cecilia's sanity begins to unravel as she desperately tries to prove that she is being hunted by someone nobody can see.
Oliver Mansour Jackson-Cohen plays the title character, though I'm sure he does not get much screen time, and Elizabeth Moss is the woman he's terrorizing.
Leigh Whannell is directing it.
Though many people probably have no idea who he is, he was one of the creators, along with James Wan, of the Saw franchise and has written a number of other horror films also directed by Wan.
The Invisible Man never really interested me, mostly because if I was invisible I would spend most of my time checking out women in the shower, rather than scaring them in it.
I guess I'm just more of a Revenge Of The Nerds guy.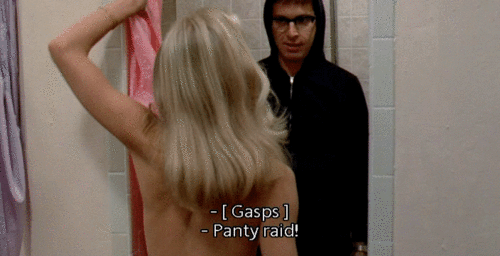 The movie does look pretty good though and seems like it may be a solid flick. The only problem with the trailer is that it pretty much gives away the entire movie.
This is not the first attempt to remake The Invisible Man.
In 1992, the critically panned Memoirs of an Invisible Man was released with Chevy Chase and Darryl Hannah, and in 2000 Robocop director Paul Verhoeven made Hollow Man in with Kevin Bacon and Elizabeth Shue.
Then you have the movies with Abbott and Costello and it becomes very complicated all of the sudden.
Dark Universe No More
Originally The Invisible Man was going to be part of Universal's whole planned classic monster shared Dark Universe idea.
The first movie in the franchise, Tom Cruise's The Mummy, failed to live up to expectations and was unable to kickstart the idea, so the Dark Universe was tossed aside and Universal decided to focus on monster flicks that were not tied together.
They went so far as to cast Johnny Depp in The Invisible Man, but after personal allegations against him from his then-wife Amber Heard surfaced in the press, he was cut loose from the movie, which gives me the opportunity to post this photo of her.
The Invisible Man was of course originally created by War Of The Worlds writer H.G. Wells.