I know you're all feeling a little fatigued from all the Star Wars coverage that's starting to hit the internet now, so let's do a change of pace and check out the trailer for the independent workplace thriller, The Assistant.
A searing look at a day in the life of an assistant to a powerful executive. As Jane follows her daily routine, she grows increasingly aware of the insidious abuse that threatens every aspect of her position.
The film stars Julia Garner, who won an Emmy for starring alongside Jason Bateman in the Netflix series Ozark. I have personally never watched the show but know a number of people who swear by it.
The Assistant was picked up after being a hit at the Telluride Film Festival and looks like a pretty clever thriller.
It seems to put a fresh spin on a position that we were all in at one point when we started our careers. I myself was quite familiar with what it's like to turn your head and play stupid regarding what those in charge were doing.
The film is actually inspired by Harvey Weinstein and all the stories that leaked about his alleged predatory ways, which could easily turn this entire production into a social statement, but the trailer doesn't seem to lean too heavily in that direction.
I like how they don't show the person she works for. Kind of like a Jaws thing going on. Wonder if they would actually do that the entire film.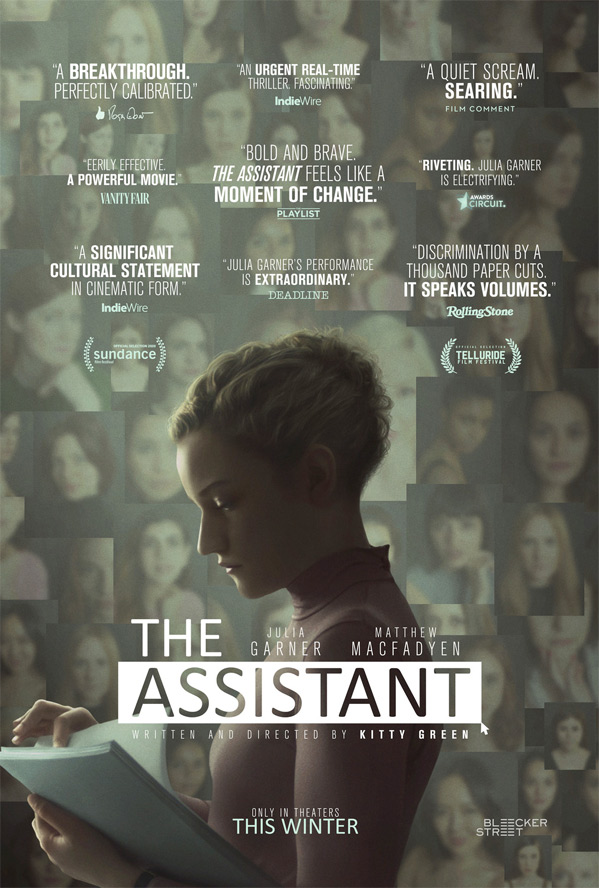 It looks good, so hopefully, The Assistant does well when it opens in NY and LA Jan 31, then in February nationwide.