1994 was a pivotal year for big screen comedies and Jim Carrey was a major part of that. Not only taking his first solo steps into the bitter sweet spotlight he managed to accomplish something no other actor had managed to do and star in three films that reached number one at the American box office.
Up until this point Jim was a familiar face on the small screen, as part of the ensemble that was In Living Color where his unique brand of comedy was get him noticed, he  was never quite able to break out from the shadow of his talented cast mates. 
The Screen Was just to small to hold a man as zany as he. After Ace Ventura was released it seemed Canada's newest favorite son was finally in his element and for any doubters, his stature as the new face of comedy was all but cemented in the second of this three box office conquests: The Mask. 
How It All Came Together
With Warner Bros.' success with Batman (1989), New Line Cinema smelled the money and sought out comic book material to adapt and ended up securing the rights to the Dark Horse comic series, The Mask.
The project made its way through several director's hands before ending up with Chuck Russell (The Blob '88, A Nightmare On Elm Street 3 : Dream Warriors) who, wanted a lighter tone than the dark and violent comic books.
To pull off the kind of cartoony action needed to bring The Mask to life they would have to rely heavily on CG effects, most of which hadn't yet been invented yet. Production pushed forward with an $18 million budget which was New Line's most expensive film to date.
Despite established stars like Matthew Broderick, Steve Martin, Rick Moranis and Martin Short being considered for the role, Russell told screenwriters Mike Werb (Tomb Raider '01) and story hands Mark Verheiden (My Name Is Bruce) and Micheal Fallon to write with Carrey in mind for the part.
Jim Carry proved he was the man, using his elastic body to not only inhabit the role but to it to such an extent he was actually able to cut costs on CGI.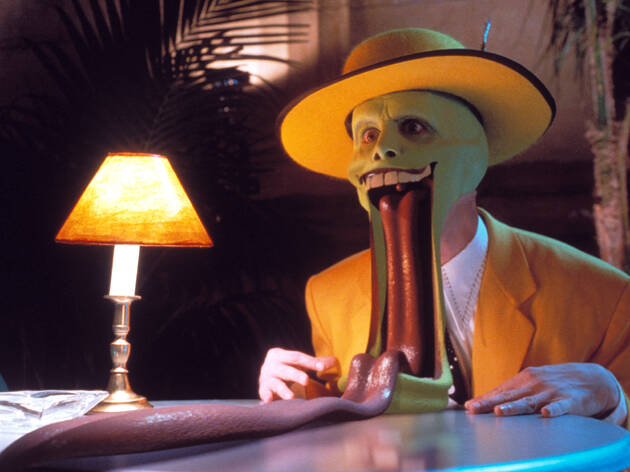 That was the kind of clout directors earned back in those days and Russell proved why again by insisting to the point of threatening to quit, that Cameron Diaz, a 21 year old model with no acting experience, get the part of Carrey's love interest. New Line had their sights on Anna Nicole Smith, Vanessa Williams, Jeri Ryan, Vanessa Angel, Jennifer Connelly, Kelly Rutherford and Kristy Swanson. Diaz came back again and again for a total of 12 auditions to learn 7 days before filming she had finally landed the part that launched her.
And the rest is film history. The Mask grossed over $350 million worldwide, was nominated for an Oscar for best visual effects, and turned Carrey into a superstar. For a period, it was also the second highest grossing comic book movie of all time. Number one being Tim Burton's Batman.
How Does It Hold Up
I watched a DVD copy of this last night because I wanted to show my kids and I was admittedly a bit worried how it would hold up due to it's heavy reliance on very dated CGI.
Although some of the seams do show they are easily overlooked because nothing is extraneous and serves to move the story forward.
Though surrounded by a solid group of co-stars the whole movie hinged on Jim Carrey and he made the movie work as well as it did. Though the standard 'zero to hero' plot line offered few surprises, there were some genuine moments of hilarity:
The Mask being frisked in the park, romance – ending scene on the bridge, unprecedented heroism,
The Mask swallowing the bomb and clever dispatching of the villain – literally being flushed away and tenderness,
Stanly and Milo breaking out of jail.
This was the first Jim Carrey movie I saw in theaters and the magic was still almost tangible. These are the kinds of movies that made me appreciate what he can do and it was a real treat to see my family enjoy the experience with fresh eyes.
Like him, loathe him or like loathing him you would be hard pressed to name another actor in any era who could do what he did here. I just hope you saved your money Jim.