The Ball Has Moved
A couple of months ago we reported that Indian comedian Mindy Kaling was in talks — or had talked — with Marvel Studios to write a movie based on the first teenage, female, Pakistani-American Muslim superhero to have her own comic book, Ms. Marvel.
Now that Rumor has officially been upgraded to Script Stage.
Hollywood Reporter has exclusively announced that Kevin Feige is looking to bring Ms. Marvel to the MCU:
Marvel is developing a live-action series for Disney+, its upcoming streaming service, based on its acclaimed comic Ms. Marvel, hiring British writer Bisha K. Ali to write and act as showrunner. Ali is a comedian who is currently a staff writer on Hulu's remake of Four Weddings and a Funeral.
Well, at least they got her religion and nationality correct. 
After all, we can not have a character being written and directed by someone of a different religion, race, gender, sexual orientation, nationality, etc. 
Right?
"Acclaimed" Is A Strong Word To Throw Around Comics
I find it hilarious that Hollywood trade publications are feting comic books are "acclaimed" only now that comic-book movies are making massive amounts of money. 
Let's have a look at this acclaim:
2015 Hugo Award: Best Graphic Story (a science fiction/fantasy award)
2015 Joe Shuster Award Outstanding Artist (a Canadian comic book award)
2016 Dragon Award Best Comic Book (Dragon Con comic book award)
2019 American Book Award (random award from the National Book Foundation)
Ms. Marvel was also nominated for almost every category in the 2015 Eisner Awards, the top-shelf comic book awards, but didn't win anything.
We All Know What's Going On Here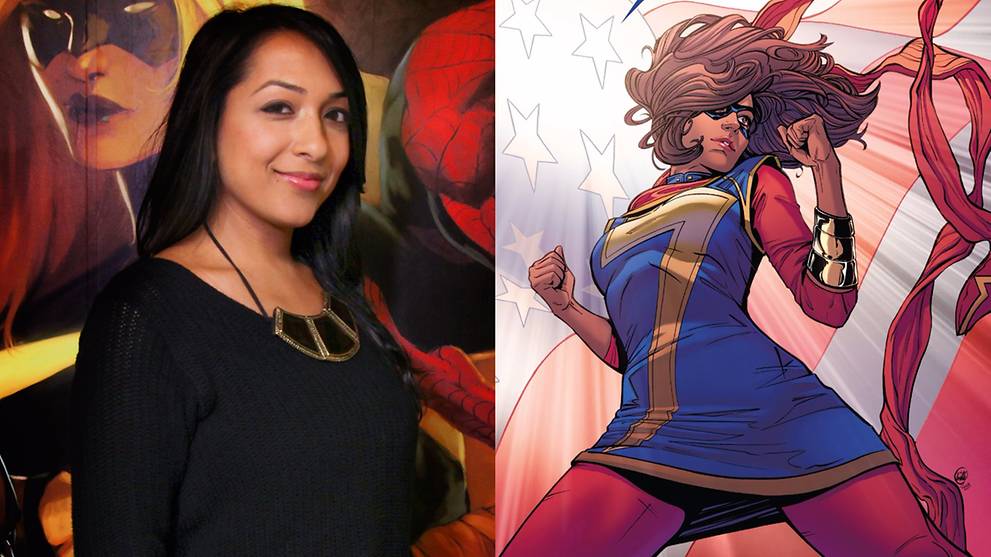 Look, this character was created as an avatar for editor Sana Amanat, who is also a female Pakistani-American Muslim, in order to position Marvel Comics as socially relevant.
The Ms. Marvel Wikipedia entry has a section called "Cultural Impact".
I'm not saying that striving for representation in entertainment and media is a bad thing but it only seems to go one way — when was the last time we saw a devoutly Christian superhero? Daredevil was 50 years.
Devout Christians are about 20% of the US population. Muslims are 1%.
Moreover, devout Christians are usually represented in entertainment as the enemy, and if not the enemy then either as naive rubes or obvert hucksters. 
This Is Not A Popular Character
Them kudos from all the right people are great but it seems to at the expense of actual comic book fans. Checking the monthly figures for Ms. Marvel shows absolutely dismal sales:
Ms. Marvel Annual: 15,373 copies (152nd of 500 in comic books)
Magnificent Ms. Marvel #5: 13,847 copies (165th in comic books)
Ms. Marvel Gn-Tp Kamala Khan: 192 copies (461st out of 500 in graphic novels)
Ms. Marvel Vol. 1 No Normal: 179 copies (499th in graphic novels)
The top-selling book Ms. Marvel is right below Teenage Mutant Ninja Turtles #95. With all that acclaim you would think more people would be interested.
It's clearly not popular, so why are they going to make this into a show?
Because Comic Books Do Not Matter
It doesn't matter if a comic book is boring, trite, agenda-driven with no audience.
All that matters to Hollywood is the concept marketable?
They will bring in writers who will punch up the character. They will cross this marketable character over with more interesting and impactful characters like Marvel Studios did with Captain Marvel (another comic book no one cared about) and The Avengers.
They will market the hell out of it. They will get reviewers to "play ball."
Rotten Tomatoes critic admits they give fake positive reviews to maintain their access. pic.twitter.com/A7w2qwPOom

— Dataracer (@Dataracer117) March 7, 2019
And if the fans try to protest over this astroturf, they will shut you down.
I will get more in-depth about this entire concept at a later date. 
For now, all you need to know is that the MCU wasn't made for you, dork.