The internet has been around for a long time now and, as someone who saw it first become a thing, I can say it has changed a lot over the years. No longer do we Ask Jeeves, when we want to search for something, and AOL Instant Messenger, AIM, is no longer the standard in instant messaging.
You're The Man Now Dog, launched in 2004, was one of the early meme sites, hosting looping GIFs and synchronized music in Flash format.
However, as time passed, Flash became outdated and modern browsers don't support it, leaving YTMND lost in the dark depths of the internet.
Then, a year ago in May 2019, YTMND's server crashed and it seemed like all the data for the site was lost.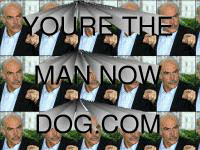 Until Now
When the server went down, YTMND founder Max Goldberg says he received an "outpouring of support from people all over."
He started a Patreon and people started chipping in to help cover the cost of upgrading his eight year old equipment, and bringing the site in line with modern digital formats.
Now YTMND is up again, on HTTPS so it's secure to browse, and audio is played in HTML5 so it runs on modern browsers.
Max says that the site is largely a solo effort, as a side project to his day-to-day freelance work as a programmer and system administrator. Even though the Patreon doesn't cover all the costs involved it is sufficient to cover the cost of hosting allowing him to operate the site without ads.
So, once again, we can watch Kirby dancing to Snoop Dogg's Dreamland.
Nostalgia is a hell of a drug.
Anyway, best wishes to Max and YTMND.
With people spending more time indoors they could do worse than browse through Max's library. Perhaps laugh at the internet as it once was.