U.S. Banks Once Engaged in "Redlining"
There was once, in the United States, a banking and real estate practice called "redlining."
This was a practice by which banks, real estate organizations, and even businesses, would engage in discrimination against African American folks — particularly in the South, though it happened in Northern cities as well — in order to force segregation.
In essence, their lending, real estate, and banking practices would ensure that African Americans "stayed in their place," and were effectively unable to build "generational wealth" of the kind that the Irish and the Italian immigrants from just a few decades before were able to.
Except, "redlining" was outlawed as a banking practice by the late 1960s and into the early 1970s in America, because banks began to realize that African Americans were just as capable of going into crippling debt as their Caucasian counterparts.
Fast forward almost 50 years and Apple TV+ has now provided us with the story of, well, two guys overcoming "redlining" to get their own white man to do their dirty work and get economic justice.
Check out the trailer below:
This Will Probably Be Uplifting
The problem is, with Progressives, old discrimination is never "old" or "passe" or "over." It's always new, fresh, and unforgivable in the present.
This is why voting for African American politicians—even Presidents—doesn't do a damn thing to shut Progressives up and move them on to more fertile ground.
Here's the summary:
The Banker is the true story of two African American entrepreneurs, Bernard Garrett (Mackie) and Joe Morris (Jackson), who during the 1950's tried to circumvent the racial limitations of the era and take on the establishment by recruiting a working-class white man, Matt Steiner (Hoult) and training him to pose as the head of their business empire while they posed as a janitor and a chauffeur.
Right.
Well, the real problem currently is that people–of all races, and mostly poor–were getting in over their heads on subprime loans a few years ago, because the banks and real estate companies now, in the present day, view us all as commodities with wallets to be capitalized on.
But, you won't see a movie about that where the Caucasian George W. Bush made a policy that was then supported by a Caucasian Nancy Pelosi, that was then continued by an African American Barack Obama.
Nope. That movie is still on the shelf.
But, I'm sure that this will be all kinds of uplifting.
To quote Frank Costello in The Departed:
"Twenty years after an Irishman couldn't get a f-ing job, we had the presidency. May he rest in peace. That's what the n****s don't realize. If I got one thing against the black chappies, it's this – no one gives it to you. You have to take it."
Apple TV+'s Cash Burn Rate Is Clearly Low
The production value on The Banker looks great, so clearly Apple TV+ has learned from the mistakes and missteps of Amazon Studios, Netflix, and even HBO in how to distribute a film to a built-in audience.
Watch out for them, as this is the first shot across the bow for an Oscar-nominated film from the House That Steve Jobs Built.
Written and directed by George Nolfi (Birth of The Dragon, The Adjustment Bureau) this looks like a "by-the-numbers" turn for Anthony Mackie and, of course, Samuel L. Jackson playing basically the same character he's been playing since 1997.
I guess if it's paying for your rent, don't change it.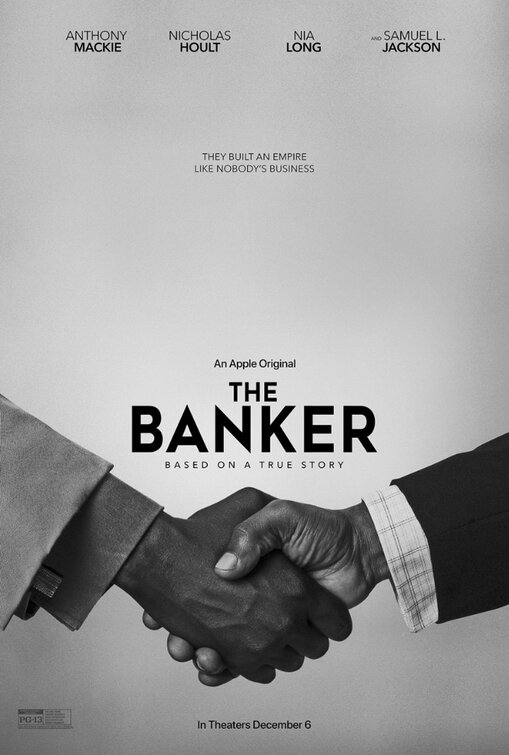 The Banker will premiere at AFI Fest on November 21, 2019. The film is scheduled to be released in a limited release on December 6, 2019, followed by digital streaming to your $1,500 iPhone X on January 31, 2020, by AppleTV+.