Every actress in Hollywood loves playing a hot role and one of the best characters out there for them to portray over the years has been one Morgan le Fay.
Le Fay has appeared in many modern mediums ranging from comics books, to TV, to film, and had Girl Power before the media forced you to think it was cool.
Maybe you got lost here because you were looking for King Arthur flour? Don't worry. Take a break from your baking and learn a bit of culture.
Who is Morgan le Fay?
The name is most likely familiar to many people, though the character's origins are probably not.
Morgan Le Fay was a powerful witch who was associated with King Arthur and The Knights of The Round Table. She first appeared in the poem The Life of Merlin which was written in 1150, though the character was around in oral stories for years prior to that.
A powerful user of magic, she also had the ability to fly.
Le Fay originally sided with King Arthur and aided him when needed. Her sister was Morgause, who is better known as The Lady of The Lake.
Today she is often portrayed in the opposite way, or as Wikipedia puts it…
Her stereotypical image… is of a seductive, megalomaniacal, power-hungry sorceress who wishes to destroy Camelot and overthrow King Arthur, and is a fierce rival of the mage Merlin. Contemporary interpretations of the Arthurian myth sometimes assign to Morgan the role of seducing Arthur and giving birth to the wicked knight Mordred.
So with such a rich history, it's no surprise that writers have been so eager to add her to their stories and productions over the years.
Morgan le Fay in Comics
DC Comics
In the DC Comics universe, Morgan le Fay is a powerful sorceress and practitioner of black magic who debuted in The Demon #1 in 1970. She has appeared as a villain in various titles over the years and crossed paths with superheroes such as Batman and Wonder Woman.
She also made a memorable appearance on Cartoon Network's Justice League episode "A Knight of Shadows" where she was voiced by Olivia d'Abo.
Marvel Comics
Since no one can own the copyright on a 1000-year-old character, le Fay is also part of the Marvel universe as well.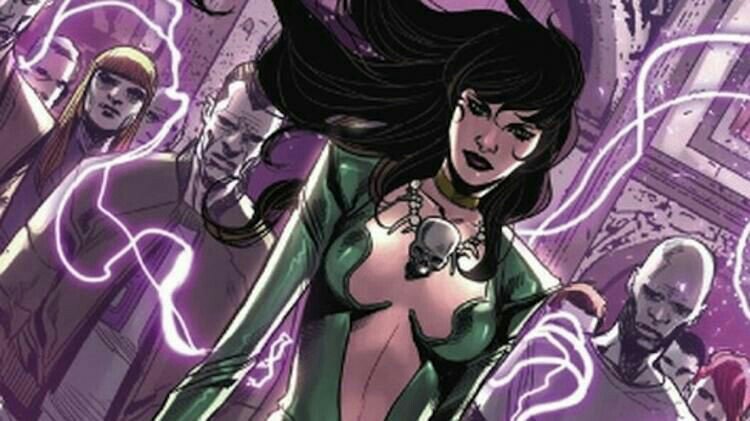 The Marvel version of her was actually created by Stan Lee in Atlas Comic's Black Knight #1, then reintroduced into Marvel continuity in 1978. She was a lover of Doctor Doom of all people at one point and has been used as a villain against The Avengers.
Morgan le Fay In TV & Movies
Elizabeth Hurley as Morgan le Fay in The Runaways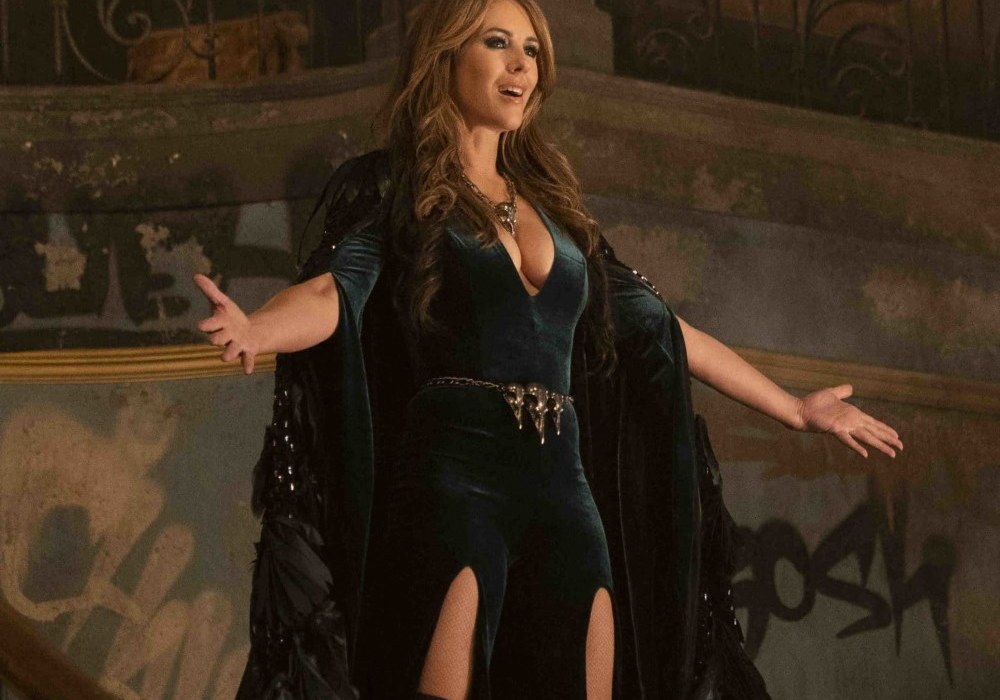 Speaking of Marvel, le Fay was used as a villain in Marvel's Hulu show The Runaways where she was portrayed by the sinfully gorgeous Elizabeth Hurley. She was not an original cast member and joined the show this past season.
Her casting made quite an impression since Elizabeth Hurley is a pretty hot MILF and has some nice breast implants, so the producers really vamped the character up, making it a point to highlight her chest in pretty much every shot she is in.
Helen Mirren as Morgan le Fey in Excalibur
The first time many readers became aware of the character was probably in the 1981 fantasy Excalibur, where she was played by Helen Mirren. The character was once again portrayed as evil in it.
At the time Mirren, despite being a working actor for over ten years, was still relatively young not a big star yet and the role helped put her on the path bigger things.
Unlike the Hurley version of the character, she is not as highly sexualized in the film and more grounded of a character.
The movie was a hit, tripling its $11 million budget, though at the time it received a number of mixed reviews. Since then critics' views of the film have changed and it's now considered a classic fantasy.
Excalibur is also of note because a number of future stars appeared in the John Boorman directed film such as Patrick Stewart, Liam Neeson and Gabriel Byrne.
Eva Green as Morgan le Fay in Camelot
After appearing in films such as Kingdom of Heaven and Casino Royale, Green played le Fay on the Starz series Camelot.
Her version of the witch was the show's main villain and tried to take over Camelot from King Arthur. Joseph Fiennes played her nemesis, the wizard Merlin.
https://www.youtube.com/watch?v=_stpEUaWr0U
Camelot was canceled after only one season, but her character was considered the high point for many viewers.
Helena Bonham Carter as Morgan le Fay in Merlin
During the 90s NBC was spending a lot of money on mini-series events, one of which was Merlin starring Jurrasic Park's Sam Neill. It was a huge hit for the network at the time and had around 70 million viewers.
Tim Burton's former muse Helena Bonham Carter played le Fay in this one. It wasn't a huge role but it earned her a Emmy nomination in 1998.
Since Merlin was intended for a wide audience, the character was a bit more family-friendly than we are used to seeing.
Morgan le Fay in The Green Knight
This summer The Green Knight from A24 is expected to hit theaters. The film is based on the story Sir Gawain and the Green Knight where at one point one of the characters is revealed to be le Fay.
The character has not been mentioned by the studio in their official synopsis or character breakdown of the film, but they are probably trying to hide any kind of spoilers, so there's a good chance we see her in the film when it comes out in a few months.
So There You Have It
This is just a sample of the character in modern times. There are literally hundreds of other stories that use Morgan le Fay.
If you get bored it could be a fun hole to fall into on Google.