The Boys is one of the more interesting shows on Amazon Prime or any streaming service for that matter.
The series is based on a Dynamite Entertainment comic-book series of the same name by writer Garth Ennis and artist Darick Robertson. It follows Hughie Campbell, who is recruited into a group called The Boys that keeps a check on superheroes who abuse their powers.
Besides the diverse characters and fluid moral code, the insight into what superheroes would look like in this corporate ruled world is pretty unique.
What would someone with Superman's powers be like if they were image-conscious masochists?
How does one climb the super ladder?
What is a human's life worth in a world where supers abound and we aren't the top of the food chain?
If you make being enhanced lucrative and the humans have a purpose, that's where the power of corporations come in.
While staying pretty true to the comic it manages to make some pretty compelling television.
Pegg Is No More!
Simon Pegg, who plays the father of neophyte Boys member 'Wee' Hughie Campbell (Jack Quaid) has revealed he won't be returning for a second season.
"They got me out of the way. I did my little bit. It was very fun to do that show. I was pleased to be a part of it."
While this is a bit of a bummer, in a show where there are so many fantastic personas to explore, Patton Oswalt and Aya Cash as Stormfront have already been added, so it makes sense that the downer dad would be squeezed out and I'm sure the show will survive just fine without him.
Simon Pegg doesn't owe The Boys anything, instead it is a little bit of the other way around.
Trivia Time!
Did you know that Simon Pegg was the inspiration behind Wee Hughie?
And that Pegg, who is friends with Robertson, even wrote the foreword for the paperback collection of the first six issues of the comic?
It's a small, small world…even 13 years ago when Darick Robertson conceived the character.
This was, you see, when Pegg's star was on the rise due to such hits as the movie Shaun of the Dead and the TV series Spaced.
So, whether it was a case of paying homage to his friend or using said friends face to sell comic books, both parties have enjoyed individual success.
Unfortunately, unlike the case of Samuel L. Jackson who was both the inspiration for and filled the role of Nick Fury in all those Marvel movies, Pegg had aged out of the part of the 20-something Hughie.
What could have been…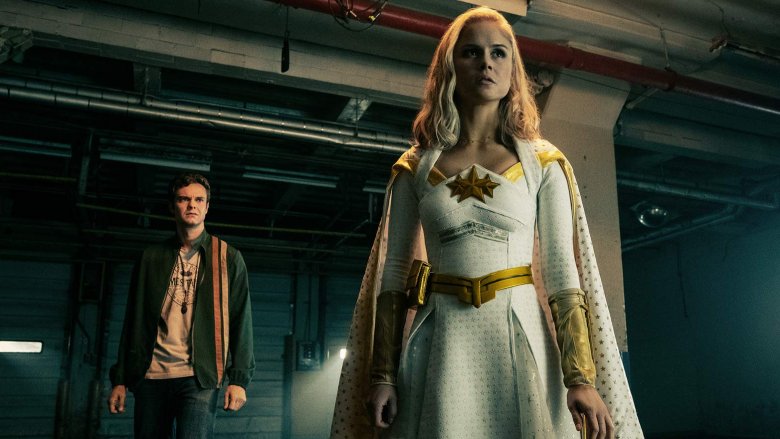 Jack Quaid shared his thoughts on playing opposite the man who inspired the role he is now recognized for:
"I was so intimidated, man, once I figured out that Simon–well I guess he never played the role, but he kind of did in a way, So I felt like it was huge shoes to fill. The fact that I got to work with him and he was so incredibly nice and so amazing on set. I mean that was like, that was it for me, man. Shaun of the Dead, Hot Fuzz, World's End, those are some of my favorite movies of all time. He's amazing, he really is."
The Boys Season 2 Premiers in July 2020 on Amazon Prime.